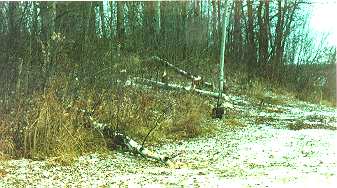 And before the real beginning of winter, the beavers managed to haul away also most of these newly cut trees. By Dec. 3 all of the trees disappeared, except for the frontmost one in the picture on the left (taken also on Nov. 26), which remained there over the winter.
The snow of Nov. 12 melted completely after a few days. Then some new snow arrived on Dec. 5, which disappeared once again quite fast. Only the snow that arrived on Dec. 17 was soon followed by real winter temperatures, and will stay here till the spring.

In the beginning of December, I counted in this little grove on the slope below the rest area more than 50 fresh beaver-gnawed stumps!