Pictures showing myself obviously took somebody else. I had with me only a very cheap camera in a bag on my handlebars, and so the quality of the pictures is not very good. Also the others equipped themselves similarly. Moreover this was my first attempt to scan photos and the very first Web pages I made.
Obrázky, na nichž jsem já, samozřejmě fotil někdo jiný. Já sebou měl jen velmi levný foťák, který jsem stále vozil v malé brašně na řídítkách, takže kvalita obrazků není nejlepší. Ostatní nebyli vybaveni o moc lépe. Navíc toto byl můj první pokus o skanování fotografií a vůbec první webové stránky, které jsem vyrobil.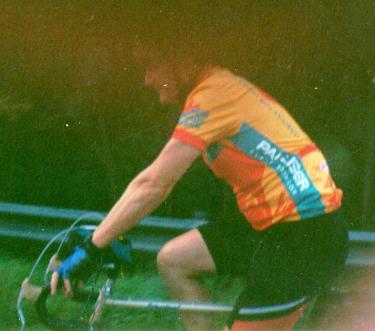 This is me with my head hidden behind the fingers of my riding neigbour whom I handed over the camera after I made the picture of Jim.
To jsem já - moje hlava je schovaná za prsty souseda, kterému jsem za jízdy podal foťák po tom, co jsem udělal snímek Jima (který se mimochodem už někdy v 50tých letech coby mladý reprezentant Skotska občas účastnil i Závodu miru.

More pictures arranged chronologically:
Další chronologicky srovnané obrázky ("Next photo" vás vždy dovede na další snímek):
---