Lyubov and Anatoly
Last updated: 15.5.2003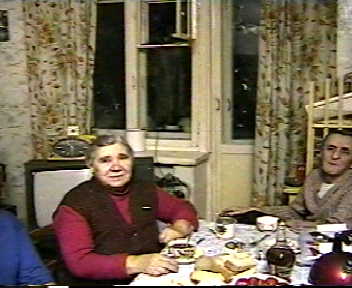 Lyubov and Anatoly are in their late seventies. They have been working hard all their lives in the production sector, in the factories. Lyubov started working at 16 with a crew repairing railway tracks at the beginning of World War II, when most young men went to war. For a few years, Anatoly was also working as fisherman on Lake Baikal. He still talks with great interest about that time. But he has not been feeling well recently, and has not ventured out of their apartment for almost two years!
Although they are now able to get by on their pensions, the last decade of tumultuous changes in their country was hard for them. They feel somewhat abandoned, feel that their life-long hard work was in vain and is not appreciated now. And so they look with dislike upon the "New Russians", who in their view make easy money, enormous sums compared to their pensions, by mere trading and not producing any new goods.
They have been living in the same apartment for about 30 years. It consists of an average size living room, two tiny bedrooms into which one can hardly fit anything else besides a bed, a tiny kitchen and bathroom, and a small hall. However, living with them in this space is their single son Boris, and currently also a nephew, Yury. And for a few days, they provided accommodation also for me! They are still rather lucky compared to some other families, who have to squeeze into even less space. All apartments in Russia have been put up for privatization recently. To become their legal owners, the former tenants have to pay only a relatively small administrative fee, but havve to go through a long bureaucratic process. Lyubov was spending her days by trips to various offices to complete this process, and to make sure that nobody else can lay claim to their apartment.
Yury hails from a little town on the shore of Lake Baikal. To get a good, permanent job in a big city, one still has to be registered there as a permanent resident. Lyubov took in Yury, her sister's son, and allowed him to register in their apartment so that he has a chance to establish himself in Irkutsk. He is married and has a small child, but his family cannot live with him until he saves enough money to be able to afford a place of his own. He works as a security guard, which is a profession Lyubov is not very enthusiastic about, either.
Lyubov and Anatoly have been helping their young out-of-town relatives all their lives. Most of the time, some nieces or nephews were living with them.

(† Anatoly deceased on May 11, 2003.)
---