Street vendor of charoit souvenirs
Last updated: 12.4.2002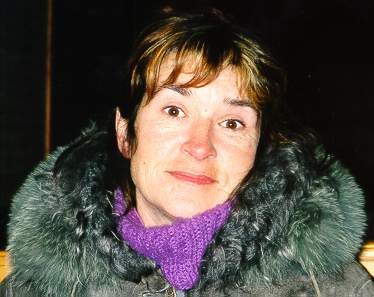 Natali came to Siberia more than 10 years ago from Ukraine. For almost a whole year she has been coming to Listvyanka daily from her home in the small town of Bolshaya Rechka, 14 km away, laying on the highway to Irkutsk. Either by bus, or hitch-hiking. She was coming to sell her goods (see the second photo) displayed on a table next to the smoked-fish vendors. On frosty days like this one (-28°C or -18.4°F), she was trying to spend a lot of her time warming herself up inside the cafe, checking up on her table through the window. Warming up with hot tea and an occasional little glass of vodka. The same were doing the smoked-fish vendors to be able to survive for so many hours those freezing temperatures.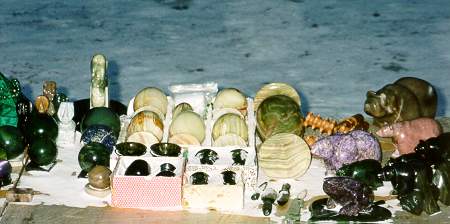 Among the souvenirs sold by Natali were various little statuettes of the Baikal's legendary god Burkhan, and also a lot of jewellery made of the semiprecious stone called charoit, usually of purple colour. Its name derives from the Chara River, one of the tributaries of Baikal, where the stone was first discovered. There is no much information on charoit in English yet. One can find many more pages on chaorit in German. These also claim that charoit has been available in the West only for a few last years. Charoit jewellery was among the most expensive items that Natali was selling.
Natalie is coming to Listvyanka because it is a popular place for tourists. Even on that cold winter working day a steady trickle of visitors were coming from Irkutsk, in cars and even by a taxi. Just to have a look at Lake Baikal, or to rest for a while, to get together with friends to enjoy smoked omul. And in the summer, there are also many foreign tourists. Thus in the summer, on good days, Natali can make in as short as in three days the same amount of money that a factory worker makes in a month. However, not every day is such a good one, and so she keeps coming almost daily also throughout the winter. I have not seen her sell anything that day.
Natali was originally a pianist. She had to abandon that profession long time ago for something more gainful to survive the turmoil of the last 12 years. When I asked her how can she endure outdoors on such a cold day, she told me: "I am just a women, who wants to live, not only barely survive."
She and her husband Oleg have a large plot around their house, and invite people to pitch a tent on their property in the summer. The address is:
Bolshaya Rechka, ul. Truda 60.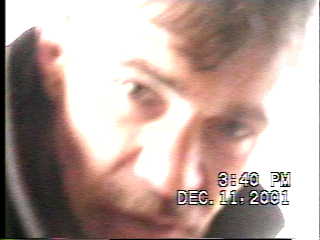 Her neighbour Yura, who also came to Siberia from Ukraine, was warming himself up in that cafe, too. He was in Listvyanka with his wife Tanya, also a street vendor. For a change, he is willing to rent a whole house to tourists. His address is:
Bolshaya Rechka, ul. Truda 58, telephone 145-521.

---